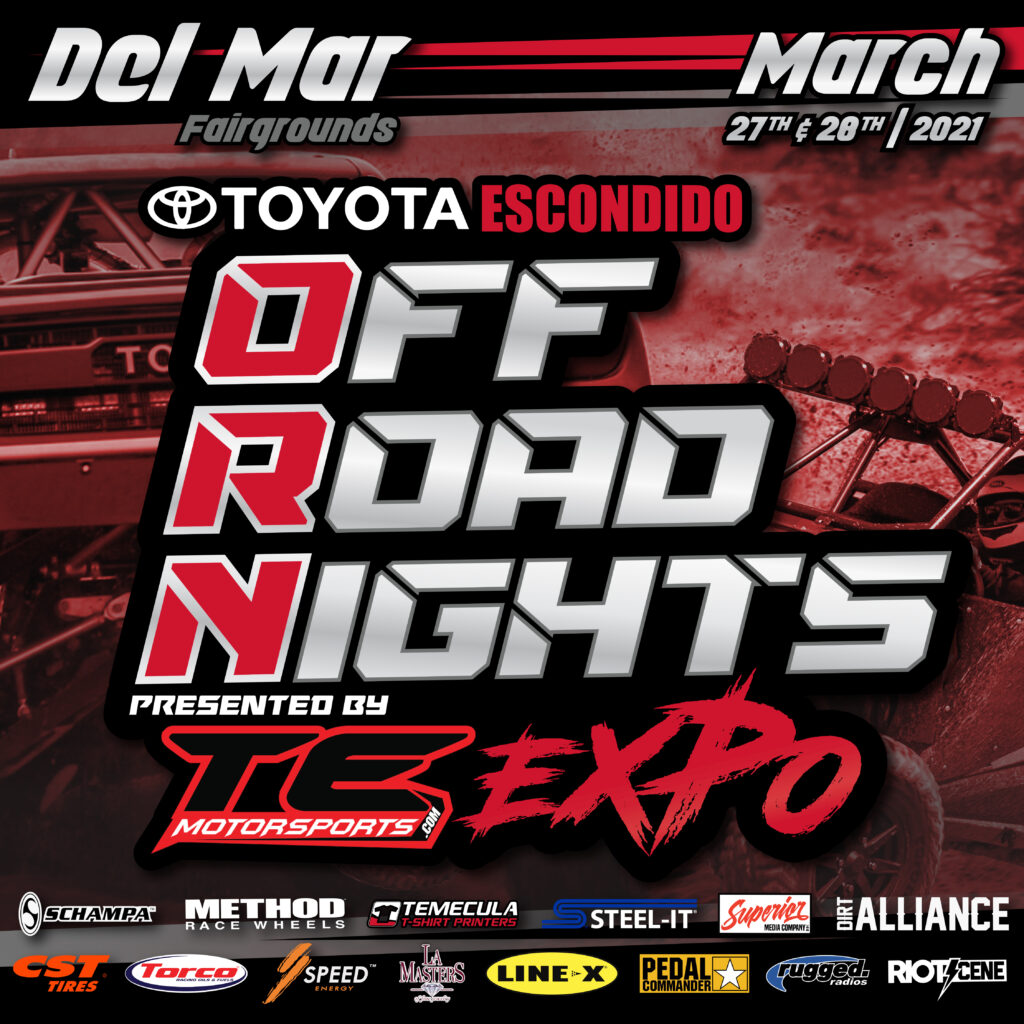 The ORN Dirt Lifestyle Expo is more than just the largest off-road expo in San Diego, ORN will also include 2 days of Dirt Alliance Dirt Cross off-road racing in the Del Mar Arena. The racing will feature Trucks and buggies, UTV's, Quads and Mini Moto-Cross racers all battling it out on a very challenging, all new longer course this year.
Exhibitor and ORN-Cross Racer registration is now open! 
Below are all the Exhibitor and Racer information and registration documents.
All exhibitor spaces are placed in order of signing up, so secure your space early to get a preferred location. Sponsorship opportunities are still available, please contact us for more info.
ORN Expo ADMISSION; (Includes Expo and Races)
Adults = $15
Kids under 10 = Free 
http://ornscene.com/orn-expo-buy-tickets-now/

ORN Expo SHOW HOURS; (Gates open)
Saturday, March 27th 11am-7pm
Saturday, March 28th 9am-5pm
Fairgrounds Parking = $15 

---

"The ORN Expo Del Mar, Where the Dirt meets the Surf"
The ORN EXPO stands as the ultimate action sports-inspired Dirt Lifestyle Expo featuring vendors, exhibits and displays along with Live music and off road racing all weekend long.
The event fully cultivates the brands that represent each of its core disciplines, from off road racing and UTV's, to overlanding, Jeeps, motocross and More.
There is something for the whole Family. "IT'S EVERYTHING DIRT"

ATV/UTV-Cross Racing:
Click to view Racer Registration Doc.

* The ATV/UTV-Cross will be head to head, short-course racing
* Racing will be held in the Del Mar Arena
Buggy and Truck-Cross Racing:
Click to view Racer Registration Doc.
Click to view Racer Info/Rules Doc.
* The Truck and Buggy-Cross will be short-course, time trial racing
* Racing will held be in the Del Mar Arena
ORN Contact info:
Rat Sult
ORN Event Director/President
PHONE: (760) 533-9380 (Mobile / Text)
EMAIL: RatSult@gmail.com
SOCIAL: Facebook / Twitter / Instagram
WEBSITE: ORNscene.com
OUR MAILING ADDRESS:
ASULT Productions /Off Road Nights
27315 Jefferson Avenue, Suit J-122
Temecula, CA 92590