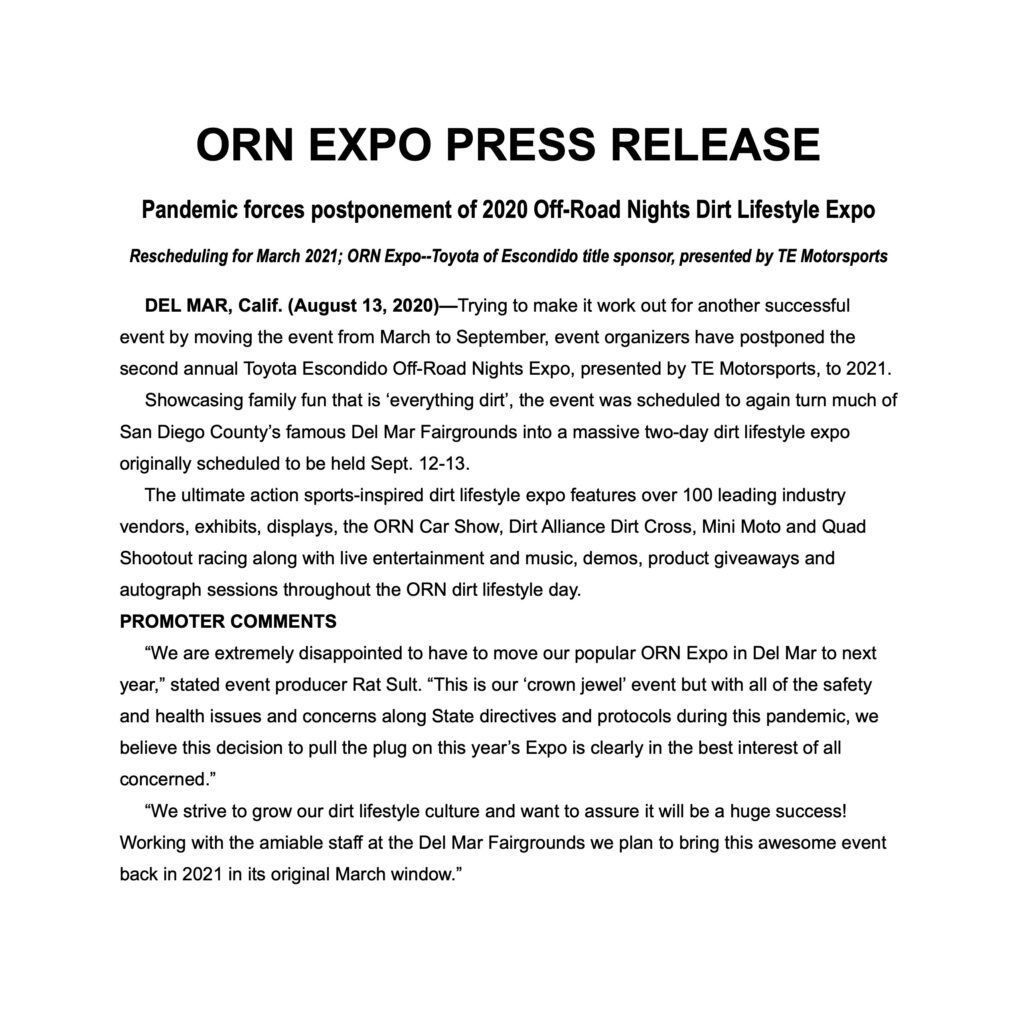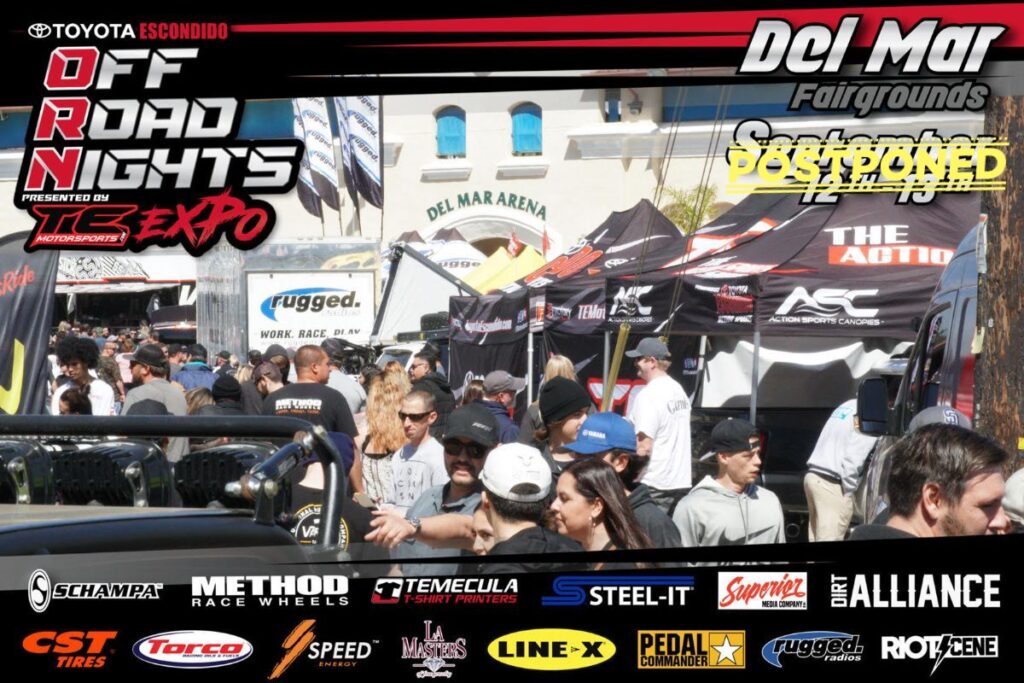 ORN

DIRT LIFESTYLE EXPO
"WHERE THE DIRT MEETS THE SURF"
SAN DIEGO'S LARGEST OFF ROAD SHOW!
.
The ORN EXPO stands as the ultimate action sports-inspired Dirt Lifestyle Expo featuring industry leading vendors, exhibits and displays, along with an off road car show, live music, interactive kids zone and dirt cross off road racing all weekend long.
The event fully cultivates the brands that represent each of its core disciplines, from off road racing and UTV's, to Overlanding, Jeeps, motocross and More. There is something for the whole Family!
.
"IT'S EVERYTHING DIRT"

.
ORN EXPO GATES OPEN
Saturday 9/12 11AM-7PM – Sunday 9/13 9AM-5PM
TICKETS NOW AVAILABLE – Tickets include access to Expo, Races and Concerts!
.

.
ORN EXPO FEATURES
.
WHAT TO EXPECT AT THE ORN EXPO:
*Industry leading vendors & Displays
*Dirt Cross off road, Quad Shootout and Mini Moto racing
*Dirt Cross Racing Times:
– Saturday- 1pm,3pm,5pm
– Sunday- 11am,1pm,3pm
*SCHAMPA Off Road Car show
*Interactive Kids Zone, including Carnival Rides and Monster Truck Rides
*Live Music on the Riot Scene Main Stage (11 Bands)
*Gates open- Saturday 9/13 11-7pm- Sunday 9/13 9-5pm
*Admission includes Expo, Concerts and Dirt Cross Races
*Single Day Admission $15, Kids under 10 are Free
*Weekend Pass is includes days for $25
*Pit passes $10
*Fairground parking $15
.
EXHIBITORS & DISPLAYS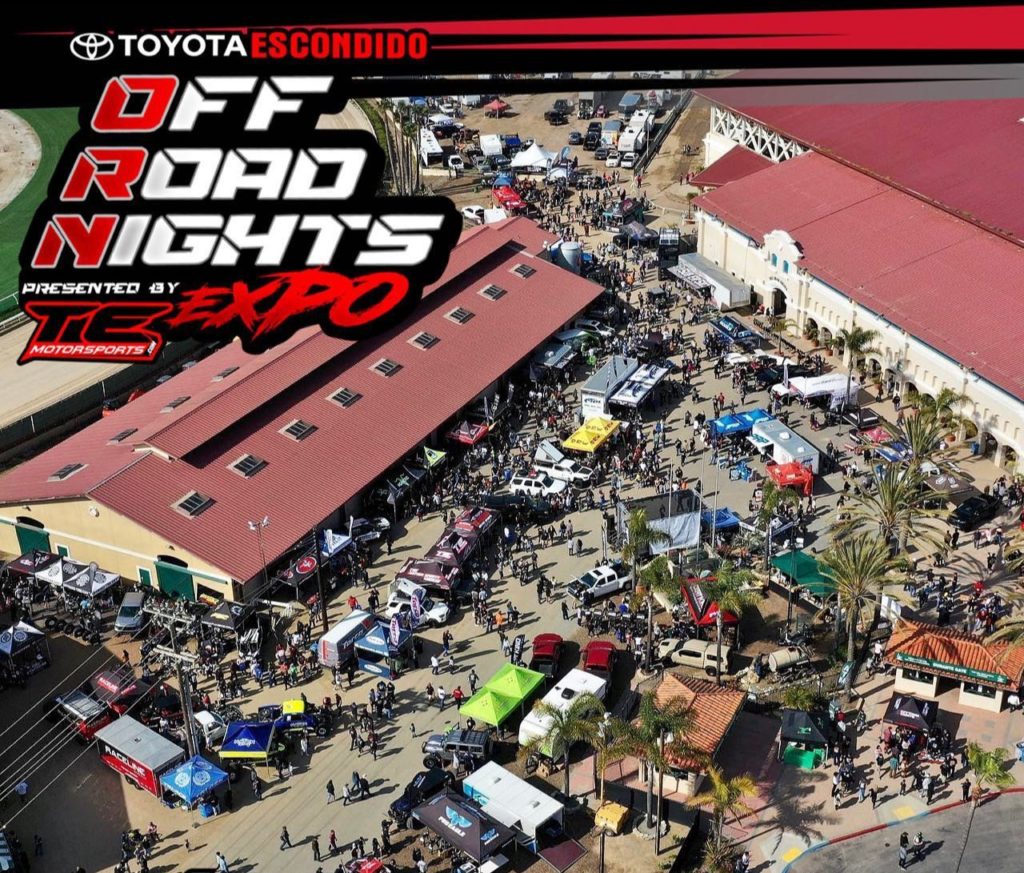 .
ORN Expo will feature over 100 off-road industry leading Vendors, Exhibits and Displays highlighting the latest & greatest of the what the off road industry has to offer.
Top manufacturers, brands and up-and-coming producers of off road goods & hardware will be in attendance and on hand displaying and selling their newest products.
.
DIRT CROSS RACING

.
The ORN Expo is proud to highlight the Dirt Alliance Dirt Cross featuring Truck, Buggy, UTV, Quad and Mini Moto racing in the world famous Del Mar arena. This feature was the exciting standout that filled the grandstands and is sure be another action packed attraction.
.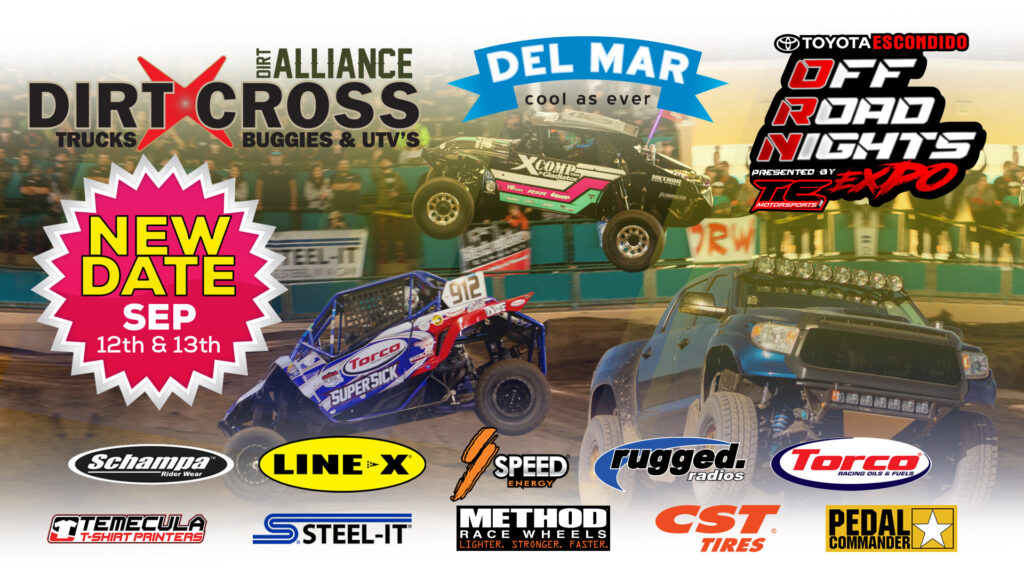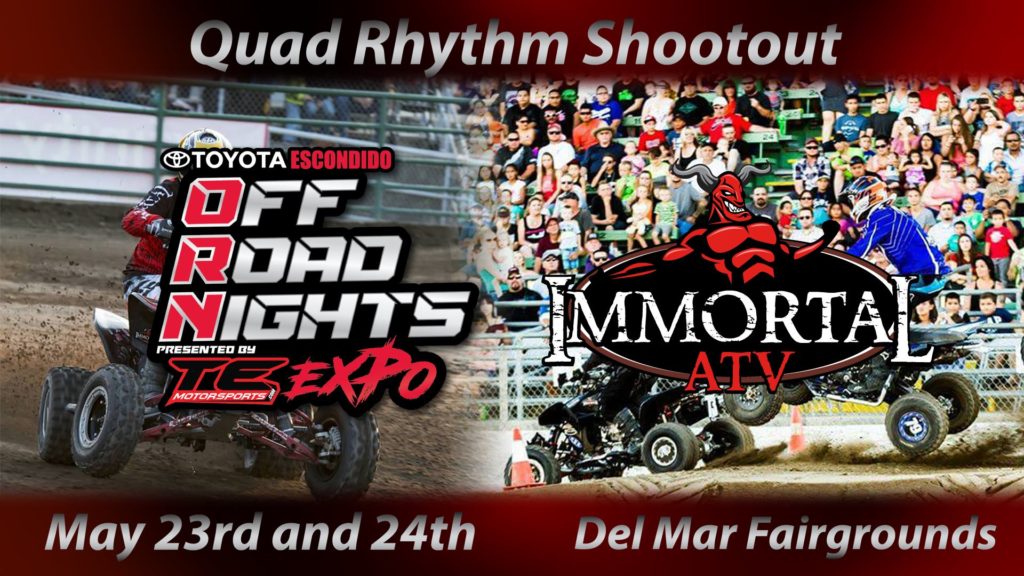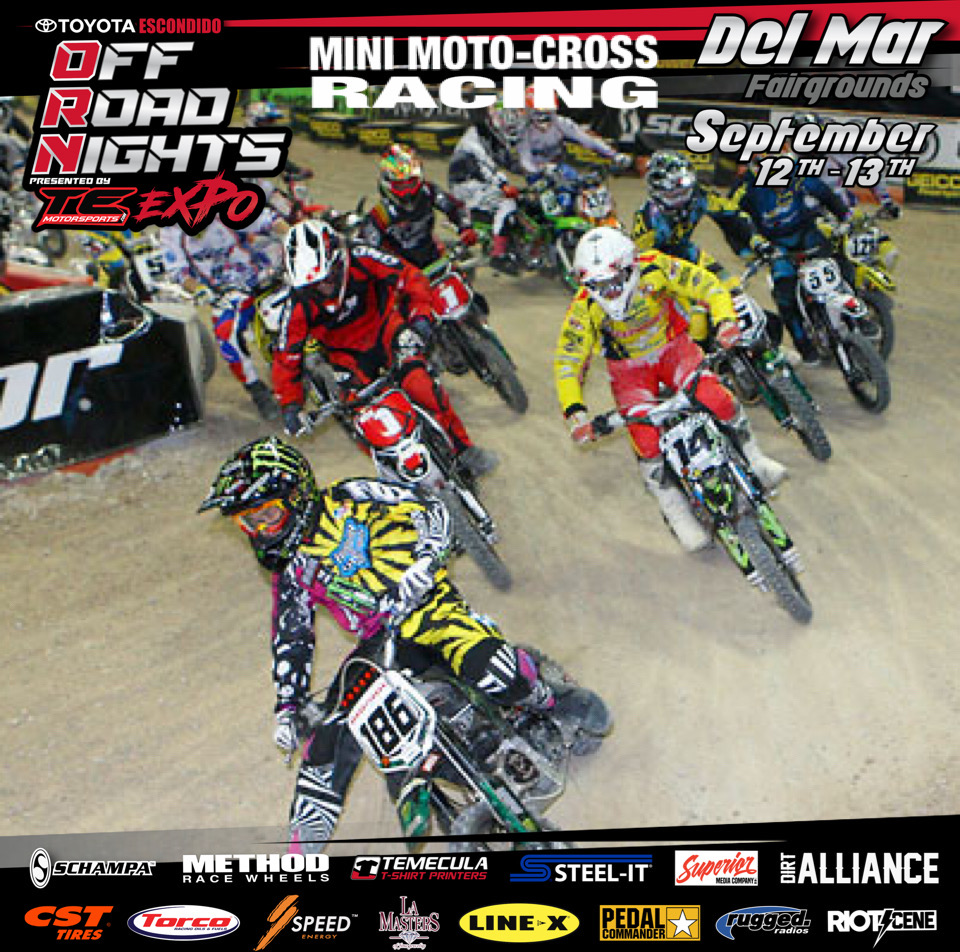 .
LIVE MUSIC
.
The Riot Scene Main Stage will be Rockin The House with live music all weekend long, featuring 11 of San Diego's hottest artists in the local music scene.
SATURDAY'S LINE UP: Black Market Brigade, Sleep It Off, Deathboys Ready Set Survive, Fishing For Chips, Nights Like Thieves
SUNDAY'S LINE UP: Infinite Signal, The Danger Field, Avenue Army The Rough, One Minute Run
.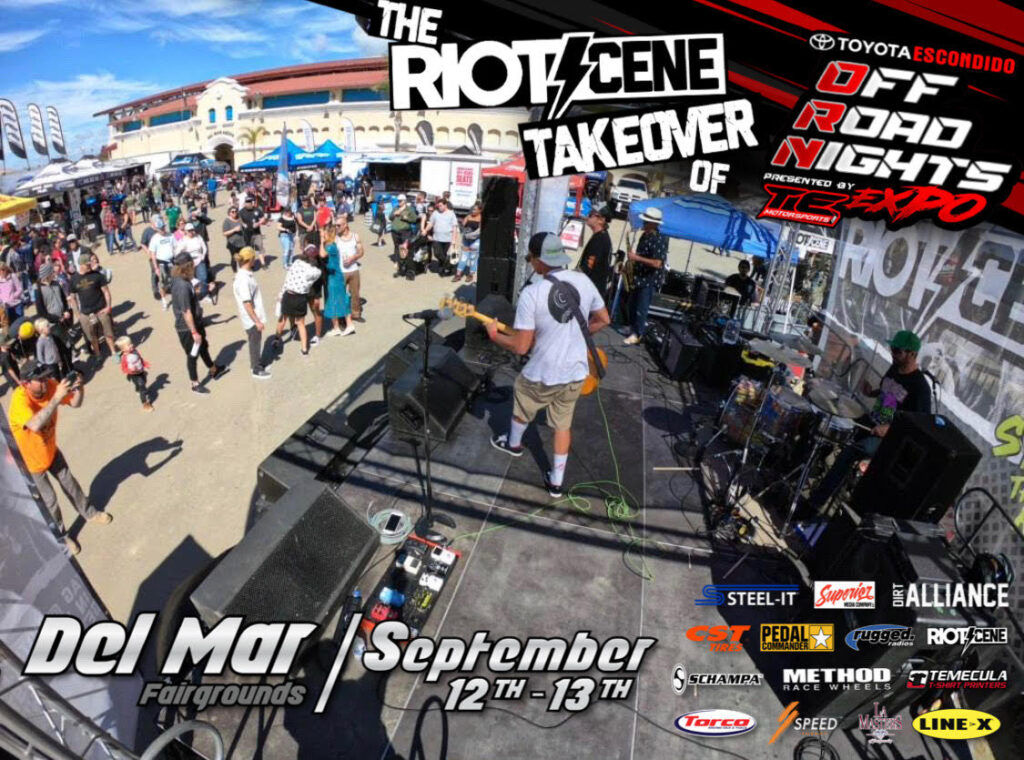 .
INTERACTIVE KIDS ZONE
.
The "All New" Interactive Kids Zone will feature carnival rides and monster truck rides to keep the kids smiling all day long.
.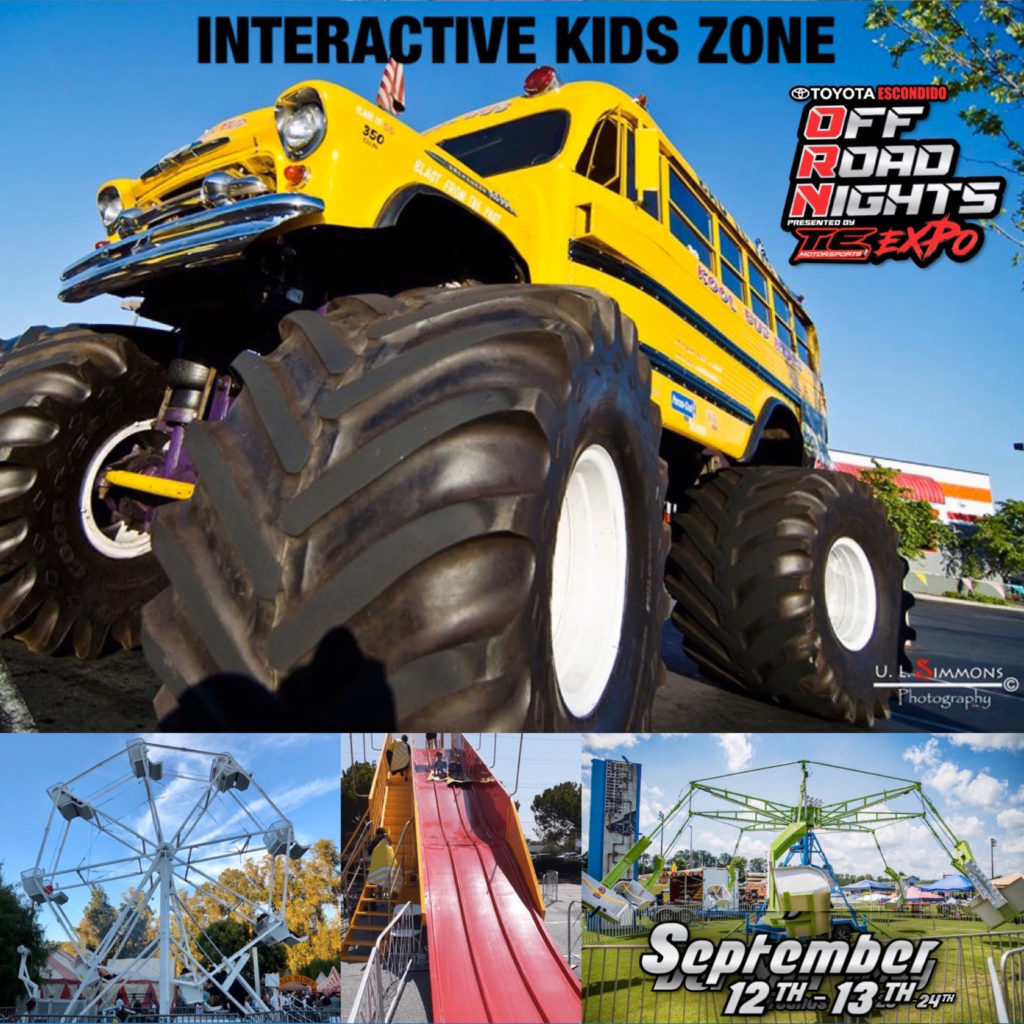 .
OFF ROAD CAR SHOW

.
The SCHAMPA ORN Car Show offers a unique opportunity to see what our off-road friends in the industry are driving and building.
The show will feature everything off-road, from home built daily drivers to some industry leading custom builds.
.